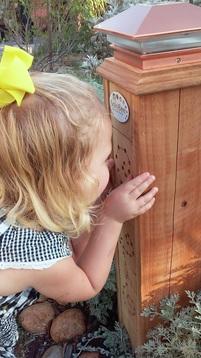 SoloBee presentation
Saturday, August 19 from 9 am - 9:45 am
Say Hello
to the Un-stung Hero,

the

Solitary Native Bee



What are Solitary Native Bees you ask?
- They are a group of 4,000 species of bees in the US that do not create honey.
- They are solitary and live alone, most do not sting.
- They are 60 times more effective at pollination than a honeybee.
- They are suffering from pesticide use and habitat loss.

With over 80% of our food requiring pollination, we must help the bees. The SoloBee shelter is a great way to provide safe, clean nesting sites for solitary, non-stinging, native bees.
Join us for this informative talk. You will be glad you did.
Please RSVP 760-720-1906 or wildbirdscarlsbad@gmail.com
Space is limited!